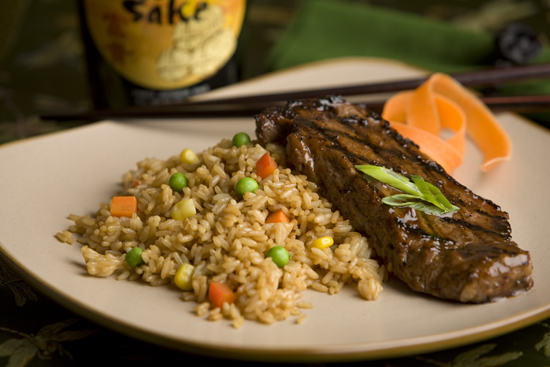 NY STRIP TEPPANYAKI
Japanese Steakhouse Copycat Recipe
Serves 2
soybean oil
2 (6 oz.) New York steaks
kosher salt and freshly ground black pepper
garlic powder
2 teaspoons unsalted butter, cut into small pieces
4 tablespoons soy sauce, divided
1 carrot, thinly sliced on the bias
1/2 cup snow peas
1/2 cup sliced savoy cabbage
1/2 cup bean sprouts
2 tablespoons mirin
2 tablespoons sliced shallots
2 tablespoons finely chopped tomato
1 pinch red chili flakes
cilantro leaves, for garnish
Put a large skillet over medium-high heat and brush it with some soybean oil. Season the steaks with salt, pepper, and garlic powder. When the pan is hot, add the steaks. Cook until the steaks are nicely browned, about 4 to 6 minutes. Flip the steaks and cook for 2 more minutes. Top the steaks with the butter and 1 tablespoon soy sauce. Cook for another 2 to 4 minutes, depending on how you like your steaks done. Remove the steaks to a cutting board, cover them with foil, and let them rest while you cook the vegetables.
Carefully wipe out the pan and brush it with some more oil. Add the carrots, snow peas, and cabbage. Season them with salt, pepper, and garlic powder and cook them until they are just tender, about 2 to 3 minutes. Add more oil, if necessary. Add the bean sprouts and 1 tablespoon soy sauce and cook just until the bean sprouts are warmed through. Divide the vegetables between 2 serving plates. Slice the steaks and arrange them on top of the vegetables.
Put the remaining 2 tablespoons soy sauce and mirin into the pan over low heat. Add the shallots, tomato, and chili flakes and cook until the shallots have softened, about 2 minutes. Spoon the sauce over the steaks and garnish with cilantro.