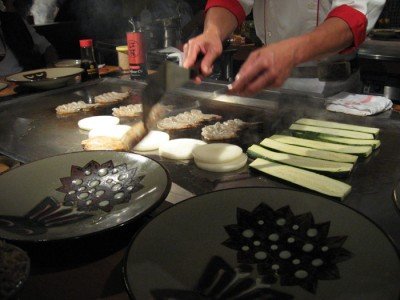 Benihana Shrimp
Copycat Recipe
Serves 1 (per person, so multiply by how many you are serving):
5 large, preferably raw, shrimp
2 tablespoons soy sauce
2 tablespoons sesame oil
1 teaspoon garlic butter
1 tablespoon lemon juice
1 dash salt
1 dash pepper
Heat a griddle as hot as you can get it. Pour sesame oil on and let it heat until it just begins to smoke. Place shrimp on griddle and saute about 3 minutes on each side. Add garlic butter and continue to cook for 1 to 2 minutes longer, or until slightly browned on each side. Sprinkle salt and pepper to taste. Squeeze juice from half a lemon over the shrimp. Remove from griddle and serve hot.
Benihana Ginger Dipping Sauce
Copycat Recipe
Makes 1/2 Cup
1/4 cup soy sauce
1 clove garlic, minced
1/2 tbsp fresh ginger, peeled and chopped (can substitute 1 tbsp ground ginger if preferred)
2 tbsp lemon juice, freshly squeezed if possible
1/2 tsp sugar
1/4 tsp white vinegar
If you do use fresh ginger for this sauce, you can run it through a food processor or blender for a minute to make it nice and smooth.
Benihana Magic Mustard Dipping Sauce
Copycat Recipe
Makes 1/2 Cup
1/4 cup soy sauce
1/4 cup water
2 tsp spicy mustard
2 tsp heavy cream
1 tsp thai garlic chili sauce
1/2 tsp garlic powder